CBS Releases 'Rain' Promo
By
Christian
November 12, 2004 - 10:31 PM
See Also: 'Rain' Episode Guide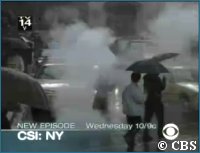 Even though CBS replaced the final minutes of last Wednesday's CSI: New York with an Arafat telecast, it still managed to return to CSI in time for the preview of next week's episode, "Rain."
In the episode, a Chinatown robbery by three men goes south when one security guard is killed and the other mistakenly fires shots at a gas tank, burning two of the robbers alive. While investigating the heist, Stella uncovers a kidnapping plot involving the bankís manager. Also, the team must find new clues when the kidnappers' ransom drop spot is blocked by an unannounced police terrorist response drill.
The trailer can now be streamed from the official CBS web site. For those of you with slower connections, here's a transcript:
THE CSI: NEW YORK TEAM KNOWS: IN THE CITY, WHEN IT RAINS, IT POURS

[Mac turns away from Stella to look at something.]
[Flack and Danny stand next to a building.]
[Clouds gather over New York.]
[People with umbrellas make their way through the traffic.]
[A man with an umbrella runs through the rain.]
[Sparks fly as a welding rod slowly burns a way into a bank vault.]
[Inside the vault, a bank robber carrying a dufflebag runs away.]
[A man wearing an umbrella has an almost comical look of fear on his face.]
[Gas spews forth from a leak inside the bank.]
[The bank robbers raise their guns.]
[Several Chinese people look shocked.]
[Flash: An elderly Chinese woman.]
[Flash: An elderly Chinese man, carrying an umbrella.]
[A bank robber points his gun directly at the camera.]

CBS WEDNESDAY: A BANK ROBBERY INFERNO

[Danny examines something with his flashlight.]
[A security guard enters the bank, brandishing his gun.]
[In the midst of emptying the safety deposit boxes, the bank robbers look up, startled.]
[The gas leak explodes in the bank robbers' faces.]
[The explosion engulfs the vault.]
[One of the bank robbers is knocked off his feet.]
[Mac and Stella squat down next to a dead bank robber on the street.]
Stella: "There's something gooey here."
[Close-up of Mac and Stella.]
[Close-up of Mac.]
Mac: "Gooey... there's a good forensic word.]
[Behind Mac, a firefighter walks through the crime scene.]
[Flashback: A Chinese girl screams.]
Danny: "A perfectly plannen bank heist... thrown by the unexpected."
[Flashback: One bank robber provides cover as the others escape.]
[The CSI team places markers at an indoor crime scene.]
[Close-up: marker number 6.]
[Aiden, wearing white gloves, puts a gun in an evidence bag.]

AND AN INFANT AT A CRIME SCENE

[An infant crawls past a man lying on a concrete floor.]
[An overhead view reveals the man is lying in a pool of blood.]
Aiden: "Time and handprint."
[Mac arrives at the crime scene.]
[Stella and Mac point their flash lights at the man on the floor."
[Stella looks up.]
Stella: "The baby was definitely here."
[Mac is concerned.]
Mac: "Where is she now?"

IT'S A CAN'T-MISS NEW EPISODE

[Highly distressed, Stella runs to a waiting police car.]
[Danny chases a suspect on the street.]
[Overhead view of Danny catching him.]
[Close-up of the dead man's foot.]
[Flack and Stella enter a house.]
Flack: "Where's the baby?"

CSI: NEW YORK, CBS WEDNESDAY

[Clous move over New York City.]
[Text: 'CSI: NY - New Episode - Wednesday 10/9C']
The new promo can be seen as a thirty-second streaming RealVideo file by heading to the official CSI: New York web site and clicking the "Preview" link at the top-right.
Discuss this news item at Talk CSI!


Add CSI Files RSS feed to your news reader or My Yahoo!
Also a Desperate Housewives fan? Then visit GetDesperate.com!