The ninth and final season of CSI: New York is now available on DVD, but fans of CSI: Crime Scene Investigation will have to wait a few months to pick up the latest season of the flagship series. According to TV Shows on DVD, CSI's thirteenth season will be released on September 17. Check out the package art below (clicking the thumbnail takes you to the larger version on TVShowsOnDVD.com):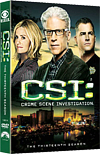 You can find information about the bonus content after the jump!
Season 13 will come with a bunch of special features, including the music video for the Black Sabbath song "End of the Beginning", which debuted in the season finale, "Skin in the Game". The DVD set will also include the CSI: New York half of the crossover, "Seth and Apep". Here is a list of the featurettes that will appear on the DVDs:
– "Tennis, Anyone?"
– "A Tale Of Two CSI's"
– "Chapter Thirteen"
– "The Extended Family"
– "Drawing Blood"
– "Providing Food & Shelter"
– "Observing The Sabbath"
– "The Birth of CSI"
Finally, the DVD set will include several audio commentaries. These will feature Wallace Langham (David Hodges), Catrinel Marlon (Hodges' fianceé Elisabetta), actor/head researcher David Berman (David Phillips), writer/co-producer Tom Mularz, director/producer Alec Smight, director/co-producer Brad Tanenbaum, and Elisabeth Harnois (Morgan Brody). Several months ago, Marlon posted a few pictures on Facebook showing herself and Langham recording their commentary for "Fearless", and you can find them below—click for the full-sized images:

CSI's thirteenth season is available for pre-order from Amazon.com. The suggested retail price for the DVD set is $69.99, and the current pre-order price is $48.99 (plus free shipping). Canadian fans can pre-order the DVDs from Amazon.ca for CDN$65.26 (plus free shipping).


Thanks to Karen O'Shea for the heads up.