As part of her "Social Sweep Week" takeover, CSI: Miami's Eva La Rue (Natalia Boa Vista) shared the following picture of herself alongside costars Jonathan Togo (Ryan Wolfe), Omar Miller (Walter Simmons) and Adam Rodriguez (Eric Delko) at the Beckstrand Cancer Foundation's Diamond & Pearl Ball last month—click to enlarge: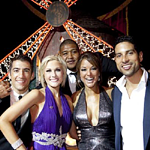 As CSI Files previously reported, La Rue is the national spokesperson for Beckstrand. The Diamond & Pearl Ball raised more than $1.1 million dollars for the foundation, which works to help families deal with the financial struggles they face after receiving a cancer diagnosis. The fifth person pictured above is Nicole Schulz, who spoke at the gala about her personal battle with AML leukemia. Schulz has been fighting the disease since 2005, and she continues to take "bags of medications" and receive weekly chemotherapy treatments. "I thank God for amazing people like those at Beckstrand Cancer Foundation who have helped me and my family when we needed it most," she said.
The live auction during the event included a Miami walk-on package with La Rue, which went to Dave and Holly Wilson for $26,000. La Rue and her husband Joe Cappuccio bid $70,000 for a week's stay in Tel Aviv courtesy of Lugano Diamonds. The package includes accommodations at a 5-star hotel, visits to historical sites and a trip to the renowned Diamond Bourse to select a diamond to be certified and named in their honor.


Source: The Orange County Register