Gary Sinise (Mac Taylor) and others shared pictures on Twitter featuring the CSI: New York leading man, as well as costars Eddie Cahill (Don Flack) and Sela Ward (Jo Danville). You can find those images and more embedded after the jump!
Sinise posted two photos of himself and Cahill on a 'New York street' on the Paramount lot. Click to see each image full-sized!

Here's Sinise alongside ventriloquist Terry Fator and his puppet modeled after Lieutenant Dan, Sinise's character from Forrest Gump:

Sinise also shared several images of himself signing autographs at the MGM Grand in Las Vegas, Nevada on November 11: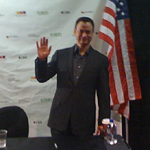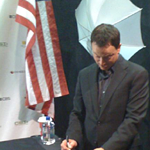 Next, check out a picture of Ward with John Salley from Game On!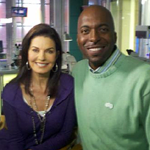 CSI: NY set designer Will Batts posted an image of a stair model for episode 8.13:

Finally, you can find two pictures shared by Jade Crespo, including a glimpse of Tito Ortiz in a cage fighting match from an upcoming episode: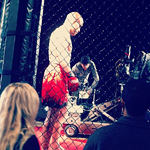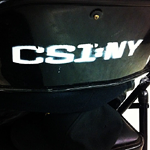 Thanks to perlnoir from TalkCSI for the Crespo links.