CBS Releases 'Precious Metal' Promo
By
Michelle
March 31, 2003 - 6:26 PM
See Also: 'Precious Metal' Episode Guide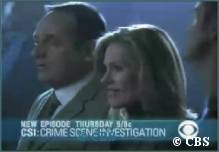 CBS premiered the trailer for next week's new CSI episode, "Precious Metal".
In the episode, Catherine finds herself drawn into the world of robotic demolition derbies while Grissom investigates the death of a newlywed.
The 30-second promo is available for download from the official site. For those of you with slower connections, here's a transcript:
[Close up of Brass and Willows.]

CSI IS BACK WITH AN ALL-NEW EPISODE

[Graphic: THURSDAY against crime scene pan shot]

[Brass, Grissom and Sarah with investigation gear walk towards camera.]

WHAT'S IN THIS BARREL

[Grissom shines a torch at the camera.]

ISN'T HAZARDOUS

[Close up of a hand x Ray.]
[Shot of figures in hazard suits in the CSI morgue.]

IT'S HUMAN

[Catherine, Brass and Nick walk towards a crowded stadium.]
[The crowd inside the stadium cheers.]

AND IT WILL LEAD CSI INTO THE WORLD OF BATTLING BOTS

[Robots in the arena do battle, while the crowd roars approval.]
[The crowd inside the stadium cheers.]
Announcer: "Robot Rumble!"
[A robot spins its buzz-saw blade.]
Catherine: "Metal weapon, money, competition, let's get after him."
[Shot of money changing hands as the crowd places bets.]
[Brass and Catherine watching the action.]
Brass: "We got a room full of murder suspects."
[A robot moves towards the camera.]

DID SOMEONE CREATES THE PERFECT KILLING MACHINE?

[Close up of Warrick in lab coat.]
Warrick: "Could have been an accident."
[Grissom tosses aside a hunk of metal.]
Grissom: "Could have been a lot of things."
[Two CSIs in blue overalls in the CSI garage.]
[Warrick examines something up close.]

IF YOU THINK YOU'VE SEEN IT ALL...

[Close up of Greg talking to Grissom]
Greg: "Weird huh?"
Grissom: "I raise cockroaches."
[Catherine shines torch off camera.]

WAIT TILL YOU SEE THIS

[Grissom investigates near a chicken wire fence.]
Voice (off Camera): "We got evidence. Signed Sealed and delivered."
[Grissom shrugs.]

ALL NEW CSI

[Graphic: CSI: New Episode Thursday 9/8 c]

CBS THURSDAY
To view the trailer for yourself, head over to CBS's official site for CSI.
Discuss this news item at Talk CSI!


Add CSI Files RSS feed to your news reader or My Yahoo!
Also a Desperate Housewives fan? Then visit GetDesperate.com!