Download 'Officer Blue' Trailer
By
Caillan
November 30, 2004 - 9:42 AM
See Also: 'Officer Blue' Episode Guide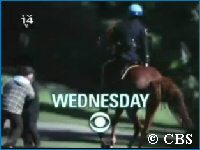 CBS recently released the promo for this week's CSI: New York episode, "Officer Blue".
The episode revolves around the shooting of a mounted NYPD officer in Central Park. Although the officer dies at the scene, the bullet which killed him is lodged in his faithful horse, Officer Blue, which survives the attack. Mac goes to great lengths to avoid putting the horse down to retrieve the bullet, but will he be successful in his effort to save Officer Blue?
The 30-second trailer is available for download from CBS.com. For those of you with slower connections, here's a transcript:
CBS WEDNESDAY

[The camera flies over New York's Central Park.]
[A man rides past on a bicycle.]
[Text: 'Wednesday']
[Another man throws a baseball to his kid.]
[Officer Valasquez rides through the park on his trusty horse, Officer Blue.]
[Suddenly, Valasquez is shot and Officer Blue shakes him off.]

A TRAGEDY IN CENTRAL PARK

[Nearby pedestrians and holiday-makers scream and duck for cover.]
[Valasquez rolls over on the ground.]
[Another police officer directs Mac to the crime scene.]
Officer: "Someone shot a mounted officer."
[Valasquez lies dead on the grass.]

FOR CSI: NEW YORK

[Mac surveys the crime scene.]
[Mac and Stella stand together in Central Park.]
[Close-up of Aiden.]
[Close-up of Danny.]
[The camera gives us a 'hero-shot' of New York's skyscrapers.]
[In Central Park, Mac delivers his verdict.]
Mac: "We've got a sniper."

NO OTHER CASE WILL PUSH THEM HARDER

[Back at the lab, Stella reads a file while Mac looks at a CSI tech working on the computer screen.]
[Mac pushes a rod through the back of a dummy.]
[Close-up of Stella's eye as she examines the evidence.]
[Danny takes a photo of a taxi at the scene.]
[Mac delivers an ultimatum.]
Mac: "I need that bullet."
[Mac and Stella confer on the streets of New York.]
Stella: "It's like a needle in a haystack."

WILL MAKE EMOTIONS RUN HIGHER

[A car whizzes past the screen.]
[Mac chases a suspect through the night-time traffic.]
[He turns around as he leaves the crime scene.]
Mac: "No one sleeps in New York city until this shooter is caught."
[He takes aim with a rifle at the lab's shooting range.]
[Stella tells Mac she's taking no prisoners.]
Stella: "I'm going to go tear up a house."

THAN SOLVING THE MURDER OF ONE OF THEIR OWN

[Close-up of a door lock being smashed open.]
[Stella bursts in, knocking out the suspect.]
[She enters the apartment, holding out her gun with both hands.]
[Back at the lab, Stella examines a rifle.]
Stella: (off-screen) "There's a killer on the loose."
[Willie Chancey accosts an old woman in Central Park.]
[Close-up of Mac.]
Mac: "All bets are off."
[Stella, wearing only a tank-top, enters the CSI gun lab holding a rifle. She arms the weapon.]
[Mac demands revenge.]
Mac: "Eye for an eye."

ALL-NEW CSI: NEW YORK CBS WEDNESDAY

[Text: 'CSI: NY - New Episode - Wednesday 10/9C']
The original 30-second trailer can be viewed in streaming Real Media format at CBS.com.
Discuss this news item at Talk CSI!


Add CSI Files RSS feed to your news reader or My Yahoo!
Also a Desperate Housewives fan? Then visit GetDesperate.com!