CBS Releases 'Swap Meet' Trailer
By
Caillan
October 23, 2004 - 8:03 AM
See Also: 'Swap Meet' Episode Guide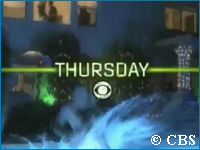 The promo for next week's episode of CSI: Crime Scene Investigation was recently made available to download online.
In the episode, entitled "Swap Meet", a woman turns up dead in a fountain in an exclusive Vegas housing estate. Before her death, she had attended a swingers' party at a nearby house, automatically making all the attendees prime suspect in the homicide investigation.
The 20-second trailer for the episode can be accessed at CBS.com. For those of you with slower connections, here's a transcript:
CBS THURSDAY

[The camera tracks across the Las Vegas skyline.]
[At a suburban swingers party, a woman dives into the pool.]
[In another part of the pool, a couple gets intimate.]

THE LIFE OF THE PARTY TURNS UP DEAD

[An ambulance an cop cars are lined up in the housing estate.]
[Vanessa Keaton lies dead in a fountain outside the house.]
[Brass gives the CSIs the lowdown on the situation.]
Brass: "A neighbour walking her dog found her."
[Vanessa's body is laid out on a hospital operating table.]

IT'S A CASE OF SEX

[A swinging couple makes love.]
[Text: 'Sex']
[Grissom and Dr. Robbins examine a photo of the dead woman in her underwear.]
[Dr. Robbins holds up a piece of intimate apparel.]
Dr. Robbins: "You don't wear La Perla to a tupperware party."
[Grissom looks at the garment, half-shocked.]

AND LIES

[The CSIs lay out the evidence on the table.]
[Text: 'Lies']
[Sara walks through the house shining her torch.]
[Grissom and Greg talk to the party's hosts, Erin and Paul Brady.]
Grissom: "What kind of party was it?"
[The couple look a little uncomfortable.]
Erin Brady: "A mixer."

IN A SWINGING VEGAS SUBURB

[The camera flies over suburban Las Vegas.]
[Various shots of couples kissing, flirting and more at the party.]
[A sweeping aerial shot of the suburbs.]
[Erin Brady is interrogated by Grissom.]
Erin Brady: "We enjoy the lifestyle."
[Grissom is curious.]
Grissom: "Wife-swapping?"
[Erin raises her eyebrows seductively.]

A NEW CSI CBS THURSDAY

[Text: CSI: Crime Scene Investigation - Viewer Discretion Advised - New Episode - Thursday 9/8C']
To watch the Real Media trailer, head over to CBS.com.
Discuss this news item at Talk CSI!


Add CSI Files RSS feed to your news reader or My Yahoo!
Also a Desperate Housewives fan? Then visit GetDesperate.com!