Halloween Comes To 'Miami'
By
Caillan
October 23, 2004 - 8:03 AM
See Also: 'Hell Night' Episode Guide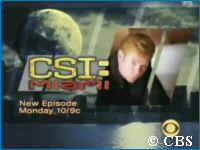 CBS recently released the promo for this Monday's special Halloween episode of CSI: Miami.
Entitled "Hell Night", the episode revolves around the trial of Donny Lopez, a baseball player accused of stabbing his wife to death. But when the jurors visit the accused's house as part of the case, they discover that he too has been murdered.
The 30-second trailer for the episode is now available for download at CBS.com. For those of you with slower connections, here's a transcript:
CBS MONDAY

[A car pulls up outside a suburban house.]
[Text: 'Monday']
[The accused, Donny Lopez, walks towards the house.]
[Close-up of a photo of Donny Lopez on the walls of the house.]
[Detective Tripp gives the facts of the case.]
Tripp: "Donny Lopez. Stabbed his wife."
[Horatio Caine looks concerned.]

A JURY'S VISIT TO A MURDER VICTIM'S HOME LEADS TO A SECOND HOMICIDE

[A female juror shines a torch over the memorabilia on the walls.]
[Close-up of a happy family photograph.]
[The juror discovers the dead body of Donny Lopez and screams.]
Juror: "Oh my god!"
[The camera lingers over the body, which has a note saying "Guilty" pinned to its back.]
[Horatio bends down to examine the body.]
[He rolls up the victim's sleeves.]
Officer (off-screen): "So this is our dead defendant."
[Horatio talks to the defense counsel, Leonard Jakes, outside the house.]
Horatio: "The client has been accused of stabbing his wife..."
[Close-up of the murder weapon with the tip covered in blood.]
[The camera tracks through the kitchen to reveal a set of knives.]
Horatio: "...and you left out knives?"
[Mid-shot of Horatio and Jakes talking.]
Jakes: "Somebody put them back."
[Back at the lab, Calleigh and Delko go over the profiles of the various jurors.]
[Close-up of Calleigh.]
Calleigh: "The killer's a juror."

IT'S A HALLOWEEN NIGHT THEY'LL NEVER FORGET

[One of the jurors trips over in the house, screaming as she knocks over the furniture.]
[The other jurors rush in to find out what has happened.]
[A car travels along a road late at night.]
[Suddenly, a man runs in front of the car's path.]
[The car screeches as the driver hits the breaks.]
[Horatio stands in the morgue with Alexx looking at the body of a dead man.]
Horatio: "What happened?"
[Close-up of Alexx as she tells him.]
Alexx: "This man literally was scared to death."

A NEW CSI: MIAMI CBS MONDAY

[Text: CSI: Miami - New Episode - Monday 10/9C']
Head over to CBS.com to watch the trailer in streaming Real Media format.
Discuss this news item at Talk CSI!


Add CSI Files RSS feed to your news reader or My Yahoo!
Also a Desperate Housewives fan? Then visit GetDesperate.com!