Watch Ecklie Break Up The Team
By
Caillan
November 21, 2004 - 10:50 AM
See Also: 'Mea Culpa' Episode Guide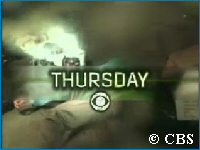 CBS Thursday night premiered the promo for next week's CSI: Crime Scene Investigation episode, entitled "Mea Culpa".
In the episode, Conrad Ecklie, the newly-promoted assistant director of the Las Vegas crime lab, launches an investigation into Grissom's handling of a five-year-old case after new evidence comes to light. During the course of his inquiry, Ecklie decides to split the graveyard shift CSIs into two separate teams.
To download the 20-second trailer, head over to CBS.com. For those of you with slower connections, here's a transcript:
[The camera tracks towards Max Larson's dead and burned body.]
[Text: 'Thursday']
[Keith Garbett confronts Nick over his father's case.]
Keith Garbett: "You let my father rot in jail for five years."
[Close-up of Grissom, his glasses dangling from his hand.]

AFTER FOUR SEASONS OF TELEVISION'S MOST-WATCHED SHOW

[Warrick walks down the corridors of the crime lab, carrying reports.]
[Text: 'Television's Most-Watched Show']
[Nick, bending over, gathers evidence using a cotton wool bud.]
[Grissom peers at different coloured metal strips hanging up on a line.]
[Neil Jansen, the fingerprint expert, talks with Grissom.]
Neil Jansen: "Did we make a mistake and arrest the wrong guy?"
[Catherine looks up in shock at the camera.]
[Grissom looks pensive as he ponders what has happened.]
Grissom: "I don't know."

THE ONE THING CSI NEVER EXPECTED

[The CSIs make their way through the burnt-out furniture store.]
[Sara gets out of a police car at the scene.]
[Greg moves through the darkness.]
[Warrick walks through the furniture store, shining his flashlight.]
[Ecklie confronts Grissom in the corridor at the crime lab.]
Ecklie: "I've opened up a supervisory inquiry."
[Grissom takes it in his stride.]
[Sophia opens up a box of evidence from the Larson case.]
[Outside the Las Vegas police department, Brass offers Grissom some advice.]
Brass: "Watch your back, it's going to get ugly."
[Catherine rests her hands on her chin.]

IS HAPPENING

[Ecklie, sitting in his office, drops a bombshell.]
Ecklie: "I'm breaking you guys up."
[Grissom looks heartbroken.]

AN UNFORGETTABLE CSI THURSDAY

[Title card: 'CSI: Crime Scene Investigation -- New Episode -- Thursday 9/8C']
Head over to CBS.com to watch the 20-second Real Media promo for yourself.
Discuss this news item at Talk CSI!


Add CSI Files RSS feed to your news reader or My Yahoo!
Also a Desperate Housewives fan? Then visit GetDesperate.com!