Official 'Urban Hellraisers,' 'Dolls' & 'Dog Eat Dog' Details
By
Christian
November 20, 2005 - 8:30 PM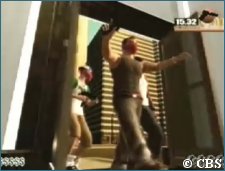 After enjoying almost nothing but new episodes over the past few months, next week will be the final week for quite a while that CSI fans will be able to watch new episodes of all three CSI series. As usual, CBS has released some official teaser info on all three of these episodes.
First up on Monday at 10:00pm will be CSI: Miami's "Urban Hellraisers," in which Horatio Caine's CSIs have to deal with the fall-out of a Grand Theft Auto-style video game:
Delko witnesses a bank robbery and the CSIs soon discover that the culprits are playing out the action from the videogame "Urban Hellraisers" on the streets of Miami. As they score points for each crime committed, the CSIs must discover what consists of getting to the next level in the game in order to stop the culprits before they strike again.
"Urban Hellraisers" was directed by Matt Earl Beesley, making this his first episode of the CSI franchise since CSI: Crime Scene Investigation's "Eleven Angry Jurors" two years ago. The episode is the second Miami outing for both screenwriters: Dean Widenmann started out with "Blood In The Water," and Marc Guggenheim previously wrote "Three-Way."

The following actors will be making a guest appearance on "Urban Hellraisers:"
Rex Linn as Det. Frank Tripp
Eva LaRue as Natalia Boa Vista
Diana Chavez as Hot Girl
Lea Moreno as Demon/Kim Mills
Shaun Sipos as Hellys/Gabe Hammond
Kanin Howell as Scream
Shoshana Bush as Teenage Girl
Larissa Gomes as Monica Rodriguez
Amy Laughlin as Erica Sikes
Brendan Fehr as Dan Cooper
Marty McSorley as Rink Manager
Michael B. Silver as Peter Elliott
Philip Winchester as Chris Allen
Jared Ward as Officer Tovado
Jerad Anderson as Glasses/Michael Page
Bellamy Young as Megan West
Boti Bliss as Valera
Akeem Smith as John Berg
Jeremy Kent Jackson as Carl Hiatt
Ryan Ryusaki as Ski Mask
Rex Linn, Eva LaRue, Amy Laughlin, Brendan Fehr, Michael B. Silver, and Boti Bliss will all be playing previously-established recurring characters. This is also true for Jared Ward, whose Officer Tovado also appeared in "Felony Flight" two weeks ago, but was then known as Officer Camston. Two other actors have previous CSI connections: Kanin J. Howell, who played Roy Hinton in the first-season original CSI episode "Sound of Silence" and Lenny Starks in last year's CSI: New York episode "Officer Blue;" and Jeremy Kent Jackson, who appeared as a store clerk in last year's original CSI episode "Harvest." Finally, Bellamy Young has never appeared on CSI before, but you can expect to see her character in at least the next two CSI: Miami episodes, just with a slight name change from Megan to Monica West.
On Wednesday at 10:00pm, CBS will be airing the CSI: New York episode "City of the Dolls," featuring the return of Kelly Hu's Det. Kaila Maka. Here's what else you can expect from the episode:
When the body of a man is discovered buried among a pile of detached doll parts, Mac, Lindsay, Det. Maka and Danny are called to one of their most bizarre crime scenes yet. The team must piece together the clues and doll parts to discover who murdered the store's owner. Meanwhile, a beautiful waitress is found dead in a studio apartment recently bestowed to her by one of her patrons.
Director Norberto Barba previously helmed the New York episode "The Fall." Screenwriter Pam Veasey is one of the show's executive producers, and this season also worked on "Summer In The City."

Below you can find the "City of the Dolls" guest cast list:
Kelly Hu as Det. Kaila Maka
Robert Joy as Dr. Sid Hammerback
Leila Arcieri as Darcy Sullivan
Kate Norby as Monica Drake
Victor McCay as Harry Ellis
Brian Gant as Dale Straker
Aimee Garcia as Rhonda Chavez
Stephanie Marie Baker as Carolyn Straker
Helena Mattsson as Lauren Redgrave
Owen Beckman as Luke Fisher
Kristina Anapau as Virginia Felton
Madison Davenporte as Abby Drake
Mark Mahoney as Arvin Dooley
Mitchell Fink as Russell McCulley
Zack Stewart as Lou Pugletti
Besides recurring actors Kelly Hu and Robert Joy, only two actors have a previous connection to the CSI franchise: Kate Norby, who played Julie Sullivan in last year's Miami episode "Game Over," and Mitchell Fink, who's played Parademic Fink in several episodes of the original CSI this season.
The final new episode of the week will be CSI: Crime Scene Investigation's "Dog Eat Dog," the final new CSI episode before CBS will repeat the season premiere on December 1. But for now, here's what you can expect from this week's new episode:
The CSIs investigate the unusual death of a man found dead in a dumpster on Thanksgiving night. Grissom and his team must take their clues from what the man ate in order to identify his cause of death, which leads them into the world of competitive eating. Meanwhile, Nick and Sara investigate the suspicious death of a couple attacked and killed by their seemingly sweet dog.
Director Duane Clark most recently worked on a New York episode, last week's "Bad Beat," but has also previously directed the original CSI episode "Compulsion."

Here's the list of "Dog Eat Dog" guest actors:
David Berman as David Phillips
Louise Lombard as Sophia Curtis
Wallace Langham as Hodges
Doan Ly as Jesse Menken
Bill Chott as Jerry Gable
Dane Northcutt as Michael Tinsley
Paula Trickey as Lori Tinsley
Terrell Ramsey as Pretzel Vendor
Jessica Collins as Missy
Daphne Ashbrook as Buffet Manager
Hal Sparks as Digger James
Bailey Chase as Marty Mayron
Joel David Moore as Guy in the Yellow Hat
Angela Goethals as Suzie Gable
For an episode of the original CSI, there's a relatively small group of recurring characters, as only David Berman, Louise Lombard, Wallace Langham and Doan Ly will be playing previously established characters. Only one other actor has appeared on any of the CSI shows before: Dane Northcutt, who played Lloyd Cole in the second-season Miami episode "Big Brother."
Besides these three new episodes, CBS will be showing a repeat of the fifth-season original CSI episode "Nesting Dolls" this Saturday at 9:00pm, as part of the CrimeTime Saturday block. In this episode, two female corpses are uncovered in a new housing development construction area, and the CSIs are led into the world of Russian mail-order brides, where young women get work visas and come to America hoping to land a man who will marry them and give them citizenship. Meanwhile, Sara is reprimanded by Ecklie for an inappropriate comment and ends up opening up to Grissom about her long-held family secret.
Discuss this news item at Talk CSI!


Add CSI Files RSS feed to your news reader or My Yahoo!
Also a Desperate Housewives fan? Then visit GetDesperate.com!