Watch 'Crow's Feet' Promo
By
Caillan
October 16, 2004 - 8:10 AM
See Also: 'Crow's Feet' Episode Guide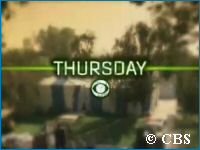 CBS Thursday night released the trailer for next week's all-new CSI: Crime Scene Investigation episode.
Entitled "Crow's Feet", the episode sees Grissom, Greg and Sara investigating the death of Eliot Beckman, who perished inside his house while it was being fumingated. Meanwhile, Nick and Catherine are called out to examine the body of a woman who may have died due to a plastic surgery procedure.
The 20-second promo is now available for download from CBS.com. For those of you with slower connections, here's a transcript:
CBS THURSDAY ON CSI

[Camera reveals a house in a suburban neighbourhood covered in a fume tent. Police and CSIs mill about outside.]
[Text: 'Thursday']
[Grissom gets out of his car across the road.]
[Outside the house, Brass briefs Grissom and Sara on the situation.]
Brass: "They found the home owner: exterminated."
[A pipe inserted through the letterbox in the front door spews gas into the house.]
Greg(off-screen): "You'd have to be an idiot to go inside a tented house."
[Eliot Beckman crawls on his hands and knees in agony as the gas enters his system.]
[Sara shines her torch on the crime scene.]
[Grissom examines the walls of the house as Greg stands by.]
Grissom: "So what was he doing in here?"
[Greg offers his opinion.]
Greg: "Dying to get out."
[Grissom slowly turns and looks at him.]
[Green flash.]
[Dr. Robbins and Catherine are standing in the morgue examining the dead body of Julie Stern.]
[Text: 'TV's Most Watched Show']
Dr. Robbins: "She recently underwent a cosmetic procedure."
[A magnifying glass is passed over a portion of Julie's body.]
[Catherine enters the foyer of a hospital.]
[Julie Stern lies on the operating table with an oxygen mask over her mouth.]
[Nick takes a photo of the body.]
Catherine (off-screen): "Two women die prematurely."
[Close-up of Catherine.]
Catherine: "Why?"
[Julie Stern is unconscious waiting for her operation.]
[Close-up of a gloved hand picking up a pair of medical scissors.]
[Nick and Catherine confer back in the crime lab.]
Nick: "It was a perversion of medicine."

A NEW CSI THURSDAY

[Text: 'CSI: Crime Scene Investigation - New Episode - Thursday 9/8C']
To watch the Real Media trailer, head over to CBS.com.
Discuss this news item at Talk CSI!


Add CSI Files RSS feed to your news reader or My Yahoo!
Also a Desperate Housewives fan? Then visit GetDesperate.com!