'Daddy's Little Girl' Promo Now Available Online
By
Carolina
January 16, 2006 - 8:22 PM
See Also: 'Daddy's Little Girl' Episode Guide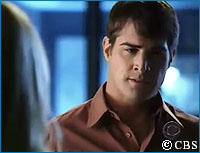 CBS has released the promo video of this week's brand new episode of CSI.
In "Daddy's Little Girl," The CSIs investigate the murder of a young man found dead in his girlfriend's garage after a night of taking drugs and partying. At first, Grissom and his team suspect that the man was murdered by his girlfriend after she discovered him cheating. However, the case takes a surprising twist when the identity of the other woman with whom the young man had been having an affair is revealed.
The promo can now be downloaded at CBS.com. For those of you with slower connections, here's a full transcript of the promo video:
[A tape recorder is held between two gloved hands. The person presses on the "play" button, and the voice of Walter Gordon comes to life.]
Walter Gordon's Voice: "Hi, CSI guy."
[The camera pulls back to reveal it's Nick who's listening to the tape.]

IT BEGAN IN MAY 2005

[Flashback to "Grave Danger." Grissom discovers Nick buried under the soil and places his hand on the glass.]
[Text-over: 'It began in May 2005.']
[Flashback: Nick sees Grissom's hand and presses his own to the glass.]
[Flashback: Walter Gordon confronts Grissom right before he kills himself.]
[At the lab.]
Grissom: "I think Walter Gordon had an accomplice."
[Flashback: Kelly Gordon, Walter's daughter, sits down in jail and is confronted by Nick.]
[Flashback: In a later episode, she visits Nick at the lab.]
[Flashback: Nick is surprised to see her.]
Nick: "You got out."
[Kelly smiles.]
[The CSIs arrive at the crime scene of the A case. A house, in the middle of the night.]
[Text-over: 'CBS Thursday.']
[Nick, Sofia, and Catherine, meanwhile, investigate another case. The scene of the crime is a garage.]
[Grissom addresses Nick.]
Grissom: "Kelly Gordon may be a suspect in your murder case.]
[Kelly is in the interrogation room. She shows her hands to the person who's interrogating her, as if she had nothing to hide.]
[Nick is talking to Catherine, and as she tells him something he looks down, pensive.]
[Sara reacts to something to her side by looking over.]
[Catherine looks over the crime scene.]
[Text-over: 'One way or another.']
[A few cops use force to break down an apartment door.]
[A woman is thrown back onto a wall.]
[Another woman opens up a door to reveal a puddle of blood on the floor.]
[A blonde woman wearing red lingerie walks down a flight of stairs.]
[Warrick walks into a room, his gun drawn.]
[The screen turns red, and we see a person in the shower, washing blood off their hands.]
[The blood mixes with the water and pulls down by the person's feet.]

IT ENDS HERE

[A man screams.]
[A CSI investigates some evidence down at the lab.]
[Text-over: 'CSI: Crime Scene Investigation. TV's #1 show. New Episode – Thursday 9/8c.']
To view the trailer of this new CSI episode, head over to the official CSI website.
Discuss this news item at Talk CSI!


Add CSI Files RSS feed to your news reader or My Yahoo!
Also a Desperate Housewives fan? Then visit GetDesperate.com!