CBS Releases 'Charge Of This Post' Promo
By
Carolina
May 15, 2006 - 7:36 PM
See Also: 'Charge Of This Post' Episode Guide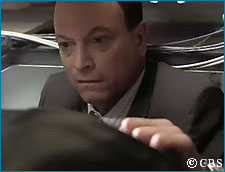 CBS last week released the promo for the season finale of CSI: New York.
In "Charge Of This Post," the team works with local agencies and government authorities to locate the bomber and narrow down the next trigger among the city's six million cell phones before he strikes again. Meanwhile, as Mac investigates a routine crime scene, he stumbles upon a bag containing C-4 explosives and is unable to evacuate the building quickly enough to get his team out of harms' way. While a CSI is rushed to surgery, Mac struggles with the memories of the last person he was unable to save, a fellow Marine killed during the 1983 Beirut barracks bombing.
The 30-second promo can now be downloaded at CBS.com. For those of you with slower connections, here's a full transcript of the promo video:
ON THE CSI: NEW YORK SEASON FINALE

[Mac and Flack are about to enter a room. Mac opens the door and points his flashlight inside.]
[Close-up of a bomb.]
[Mac examines it closely. His eyes widen when he realizes what it is.]
[Lindsay is outside the building when suddenly she hears people screaming.]

TERROR

[Black screen.]
[Text-over: 'Terror.']
[Mac moves down the halls of the building, cell phone by his ear.]
Mac: "We have a bomb!"
[People run out of the building frantically.]

IS JUST

[Black screen.]
[Text-over: 'Is just.']
[Lindsay runs towards the building waving her badge.]
[The starts to guide people away from the building.]
Lindsay: "NYPD, everybody get back!"

A PHONE CALL AWAY

[Black screen.]
[Text-over: 'A phone call away.']
[Close-up of a thumb as it presses the keypad of a call phone.]
[The signal goes through the inside of the phone and triggers a reaction.]
[Suddenly, the building explodes. Debris flies out of its windows.]
[The explosion sends Lindsay flying backwards.]
[Other people are sent flying by the force, too.]
[Debris continues to fall on the street.]
Lindsay voice-over: "There's at least two NYPD cops in there.]
[Inside the building, Mac is cradling Flack, who is unconscious and full of blood.]
Mac: "Just hang on."
[Mac tries to crawl out of the building by moving the debris aside.]
[The bomber is talking to someone over the phone. We only get to hear his voice.]
Bomber: "You escaped my demonstration. It's not over yet.]
[Shot of the building exploding again.]
[Mac is at the lab, holding a cell phone to his ear.]
Mac: "There's another bomb."
[Shot of a cell phone strapped to a homemade bomb.]
[Lindsay looks at Mac gravely.]
[Mac, too, looks disturbed.]
Mac: "We got three hours."
[The camera flashes through the streets of New York.]
[A group of people stand around, all talking on their cell phones.]
[Mac confronts someone.]
Mac: "There are six million cell phones, any one of which could trigger the next bomb."
[Thousands of people are out on the streets, most of them using cell phones.]
[Stella looks around, lost.]
[Paramedics help a woman away from the destroyed building.]
[Mac and other cops enter an apartment when suddenly a few spotlights are turned on.]
[Mac has his gun drawn. Suddenly, someone shoots at him.]
[The shooter then takes down another one of the officers.]
[Lindsay is talking on her cell phone when suddenly she turns around.]
[Mac is at the hospital with Flack, holding his hand.]
[Stella has her gun drawn and hears something. She turns around, scared.]
[Mac aims his gun at someone. Stella is behind him, doing the same.]
[Close-up of Danny. He's wearing a protective suit.]
[A cell phone rings.]
[Mac looks down at it.]
[He doesn't know what to do, and turns to Stella. She's speechless as well.]

THE CSI: NEW YORK SEASON FINALE. WEDNESDAY.

[A smoky screen.]
[Text-over: CSI: NY. Hit drama. Season finale Wednesday 10/9c.']
To view the trailer of this new New York episode, head over to the official CSI: New York website .
Discuss this news item at Talk CSI!


Add CSI Files RSS feed to your news reader or My Yahoo!
Also a Desperate Housewives fan? Then visit GetDesperate.com!