Get Your First Look At 'Snakes'
By
Christian
January 9, 2005 - 10:23 AM
See Also: 'Snakes' Episode Guide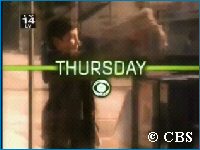 Nick has a slithery case on his hands in this Thursday's episode of CSI: Crime Scene Investigation, the first footage of which was recently made available on the Internet.
Entitled "Snakes", the episode deals with the murder of a investigative journalist who was writing an inside story on the world of Mexican drug culture. As the CSIs proceed with their investigation, they discover that the circumstances of the journalist's death are eerily reminiscent of a narcocorrido, or Mexican drug ballad.
The 20-second promo is available for download from CBS.com. For those of you with slower connections, here's a transcript:
CBS THURSDAY

[A paperboy place the morning's round of papers on top of the newspaper box.]
[Text: 'Thursday']

A GRUESOME DISCOVERY

[The boy opens up the newspaper box.]
[He looks at what he finds there and almost throws up.]
[In the morgue, Dr. Robbins examines the severed head.]
[Text: 'TV's Most Watched Show']
[Catherine takes photos of the head.]
Dr. Robbins: "Decapitation was post mortem."
[Grissom cocks his head slightly.]

RATTLES CSI

[Catherine extracts a snake from inside the severed head.]
[Nick examines the severed head.]
Nick: "A Mexican vic.."
[The victim's head falls into view.]
Nick (off-screen): "...on a Mexican newspaper..."
[Stacks of the Spanish-language newspaper.]
Nick (off-screen): "...with a Mexican snake."
[A magnifying glass is based over the dead body of the snake.]

NOW THEY'LL ENTER A WORLD WHERE LYRICS TO A SONG

[Nick picks up a live snake.]
[He drops it and darts backwards.]
[Nick eases his way through patrons at the narcocorrido bar.]
[Detective Vega and Nick question a suspect at the LVPD.]
[Nick sits on the floor, with headphones over his head.]
[Close-up of Nick as he listens to the narcocorrido.]
[Shot of Grissom.]
[Shot of Sara.]

LEAVE CLUES TO A KILLER

[The lead singer of Trancazo Norteno belts out a narcocorrido.]
[At the bar, Detective Vega translates for Nick.]
Vega: "I stole her life."
[The band is in full swing on the bar's stage.]
Vega: "I made a snake..."
[Nick translates the final line himself.]
Nick: "...eat a snake."

A NEW CSI CBS THURSDAY

[Text: 'CSI: Crime Scene Investigation - New Episode - Thursday 9/8C']
To view the clip in streaming Real Media format, head over to CBS.com.
Discuss this news item at Talk CSI!


Add CSI Files RSS feed to your news reader or My Yahoo!
Also a Desperate Housewives fan? Then visit GetDesperate.com!