See Dayshift CSI Sofia Curtis In Action
By
Christian
November 8, 2004 - 10:27 AM
See Also: 'Formalities' Episode Guide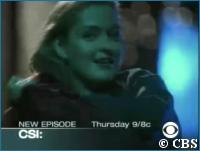 CBS last Thursday gave viewers the first glimpse of Sofia Curtis, a dayshift CSI playing a special role in this Thursday's "Formalities".
Curtis will be played by Louise Lombard of Hidalgo fame, part of CBS's effort to attract famous guest stars for November sweeps episodes. In this particular episode, Grissom abruptly leaves a dinner honoring Conrad Ecklie's appointment to new Assistant Director of the Crime Lab after he gets an urgent page to rush across the street to a hotel suite where a high school student was found dead. Dayshift CSI Sofia Curtis assists Grissom with the case. The autopsy reveals that the victim died of suffocation after one of her classmates was kidnapped from the party. The CSI team now races to find the kidnapped victim before she is found dead, too.
The 20-second trailer for the episode can be accessed at CBS.com. For those of you with slower connections, here's a transcript:
THESE INVESTIGATORS HAVE SEEN IT ALL

[Several framed shots of 'CSI' cast members, with the text 'TV's Most Watched Show' placed over it.]
[Flash: Gil Grissom.]
[Flash: Catherine Willows.]
[Flash: Warrick Brown.]
[Flash: Sara Sidle.]
[Flash: Nick Stokes.]

BUT THEY'VE NEVER MET A CSI LIKE HER

[Day shift CSI Sofia Curtis takes off her coat.]
[Sofia smiles.]
[Grissom and Brass look at Sofia.]
[Sofia fidgets with an earring.]
Sofia: "Don't worry, I'm wearing underwear."
[Grissom can't believe what he's hearing.]
[Sofia mocks Grissom.]
Sofia: "As far as you know."

OR SEEN A HOMECOMING PARTY END LIKE THIS

[A CSI walks into a hotel lobby.]
[Security camera footage of a crowd partying in a ballroom.]
[A girl wearing an orange wristband lies on the floor.]
[A photo camera flashes.]
[Close-up of the wristband, featuring the imprint 'A Night To Remember.'
[Wearing a formal dress, Sofia kneels down next to the girl.]
Sofia: "A night to remember."
[Grissom, wearing a bow tie, kneels down next to her.]
Grissom: "A night to forget."

AND THIS CASE IS GETTING STRANGER BY THE MINUTE

[Still in suit and bow tie, Grissom enters a room.]
[A group of students is lined up for questioning by Brass.]
[A girl throws drugs in the toilet.]
[Security camera footage of a girl being kidnapped by two masked men.]
[Flashback of the two men entering a room, both brandishing guns.]
[A blonde girl in a chair is shocked when one of the men points his gun at her.]
[One of the men looks up at the camera.]
[Warrick holds up the two masks.]
Warrick: "Got everything for Halloween except the candy."
[Catherine puts down her photo camera.]
[A police team with bullet-proof vests and guns runs through the hotel.]
[A scared student tries to explain himself in the interrogation room."
Student: "This was a joke."
[Nick interrogates the student.]
Nick: "Do you see us laughing?"

A NEW CSI, THURSDAY

[Text: CSI: Crime Scene Investigation - New Episode - Thursday 9/8C']
To watch the Real Media trailer, head over to the official CSI site.
Discuss this news item at Talk CSI!


Add CSI Files RSS feed to your news reader or My Yahoo!
Also a Desperate Housewives fan? Then visit GetDesperate.com!