'Outside Man' To Take Your Breath Away
By
Christian
November 7, 2004 - 11:30 AM
See Also: 'Outside Man' Episode Guide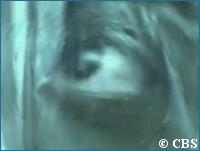 CBS last Wednesday released the trailer for "Outside Man" the first CSI: New York november sweeps episode.
Sweeps are the ratings measurement periods during which television networks pull out all the stops to attract as many viewers and thus convince advertisers that their money is well spent. This year's first sweeps period started on Thursday the 4th of November, meaning that CSI: New York will have its first entry next Wednesday, when Mac assigns Danny and Aiden to one of the team's toughest cases yet: a multiple homicide in which employees of a restaurant are found shot to death with plastic bags over their heads. As they examine the clues, all signs point to an "inside" job but not to a suspect. Meanwhile, Mac and Stella investigate the death of a man found dead in his bed, whose amputated lower leg led them to him.
The trailer can now be streamed from the official CBS web site. For those of you with slower connections, here's a transcript:
[Close-up of an eye darting around inside a plastic bag.]
Woman: "Oh my God!"
[Inside another plastic bag, a man screams.]
[We see now the eye belongs to a woman - she looks at the man.]

IMAGINE... TO SAVE YOUR LIFE, YOU HAVE TO HOLD YOUR BREATH FOR 37 SECONDS

[Close-up of the woman's eye.]
[The woman looks around nervously, and increasingly scared.]
[The plastic contracts and expands over her mouth as we hear her panting.]

WEDNESDAY

[CSIs arrive at the restaurant.]
[Text: 'Wednesday.']
[Close-up of Mac.]
Mac: "Everything is wrong about this place, including the time.]
[A wall clock showing the time at 5 to 10.]

GET READY FOR AN HOUR OF TELEVISION SO INTENSE

[Behind a diner's bar, a man tries to crawl to safety.]
[Stella looks concerned.]
[Mac stands in the dark.]
[Mac and Stella enter an apartment and immediately cover their noses against the smell.]
[A look around the apartment...]
[... reveals a leg.]
[Mac examines the leg.]
Mac: "One leg constitutes 15% of a person's bodyweight."
[The leg lies on a table in the morgue.]
[Flash: The reflection of a man in a lab coat and wearing white gloves, inspecting some shattered glass fragments.]
[Flash: A hand touching a woman's back.]
[Flash: An x-ray image of the leg?]
[Mac looks up.]
[Close-up of a very lifeless hand.]
[Flash: A man on his bed, clealry in distress.]
[Stella walks in.]
Stella: "Gives a whole new meaning to the term chop-chop."

IT'S GUARANTEED TO TAKE YOUR BREATH AWAY

[The woman inside the plastic bag, still very scared.]
[Close-up of the plastic over her mouth.]
[Black screen. A man is heard suffocating.]

A NEW CSI: NEW YORK, CBS WEDNESDAY

[Text: 'CSI: NY - New Episode - Wednesday 10/9C']
The new promo can be seen as a thirty-second streaming RealVideo file by heading to the official CSI: New York web site and clicking the "Preview" link at the top-right.
Discuss this news item at Talk CSI!


Add CSI Files RSS feed to your news reader or My Yahoo!
Also a Desperate Housewives fan? Then visit GetDesperate.com!