'Dispo Day' Promo Released
By
Christian
March 6, 2003 - 3:17 PM
See Also: 'Dispo Day' Episode Guide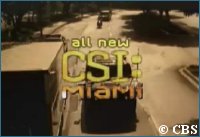 CBS recently released the trailer for next Monday's CSI: Miami episode on its official web site.
Entitled "Dispo Day," the episode will see the CSI team come under suspicion after a drug transport is ambushed. The episode was directed by David Grossman, the episode's writers aren't yet known.
The 22-second promo of the episode can now be downloaded at the official CSI: Miami site. For those of you with slower connections, here's a full transcript:
[Tim Speedle is shown from the side.]

CBS MONDAY

[A police van drives down a road.]
[TEXT: 'All New CSI: Miami']

A ROUTINE TRANSPORT OF DRUG EVIDENCE IS AMBUSHED

[Horatio Caine is behind the wheel.]
[A police escort is visible in the wing mirror.]
[Two split-screen shots of a car hitting the van.]
[Two split-screen shots of men firing guns.]
[Horatio Caine runs away from the van.]
Caine: "Get down!"

CSI INVESTIGATORS ARE CAUGHT IN THE LINE OF FIRE

[Two split-screen shots of Horatio Caine in his "Crime Scene Unit" jacket.]
[Tim Speedle, in the passenger seat, raises his arm to protect himself from something.]
[Speedle lies on his back on the ground, motionless.]
[Caine feels for Speedle's pulse, shouts out.]
Caine: "Rescue!"

AND NOW...

[Caine opens the back of the van, with investigators looking on.]
Caine: "The cocaine is gone."

THEY'RE ABOUT TO BECOME...

[A police team with flashlights run into a dark room.]
[Internal Affairs officer Jack Seeger sits behind a desk.]
Jack Seeger: "We found our mole."

THE NUMBER ONE SUSPECTS

[Shot of a hand strapped down to a lie detector.]
[Two black-and-white shots of Eric Delko and Calleigh Duquesne.]
[Polygraph deputy Nicki Barrrett prepares the lie detector.]
Nicki Barrett: "Are you ready?"
Speedle: "Yeah."

ALL-NEW CSI: MIAMI, CBS MONDAY

['CSI: Miami' Logo]
"Dispo Day" is scheduled to air on Monday the 10th of March at 10pm, on CBS. To watch the trailer, please head to the official site.
Discuss this news item at Talk CSI!


Add CSI Files RSS feed to your news reader or My Yahoo!
Also a Desperate Housewives fan? Then visit GetDesperate.com!