Preview Next Week's 90-Minute 'CSI: Miami'
By
Christian
November 5, 2004 - 8:49 PM
See Also: 'Crime Wave' Episode Guide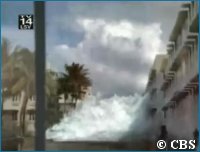 CBS Monday night debuted the promo for coming Monday's special CSI: Miami episode, entitled "Crime Wave".
In the episode, a huge tsunami is heading directly towards Miami and the 10-hour warning gives citizens just enough time to evacuate inland. In the chaos, two people are killed in a parking lot and the evidence leads Horatio to discover a plot to rob a bank timed to take advantage of the evacuation. Meanwhile, in the wake of the storm, Ryan and Alexx discover a body washed up from a local cemetery that may have a different cause of death than originally recorded.
The trailer is available for download from the official CSI: Miami site. For those of you with slower connections, here's a transcript:
CBS MONDAY

[A massive traffic jam on a Florida highway.]
[A long line in front of a fuel station."
Radio Announcer: "Mandatory evacuations are underway."
[On the street, Horatio looks up.]
[Det. Tripp looks around the street.]

A 30 FOOT WALL OF WATER

[Said 30-foot wall of water speeds towards the camera.]
[Flash: Ryan Wolfe.]
[Flash: Yelina Salas.]
[Flash: Eric Delko.]
[Flash: Calleigh Duquesne.]
[From a viewing post, two people are watching a massive wave roll over the beach.]
[We see their faces now: it's Ryan Wolfe and a blonde woman.]
Ryan: "It's going to be a monster."

IS HEADED FOR MIAMI

[Another shot of the wall of water.]
[Flash: Alexx Woods.]
[Flash: Ryan Wolfe.]
[Flash: Yelina Salas.]
[Flash: Eric Delko.]
[Flash: Calleigh Duquesne.]
[Close-up of Alexx.]
Alexx: "Uh-oh."
Horatio: "The wave is not the only thing about to hit Miami."
[A wall of water splashes through a beachside avenue.]
[Inside a bank, a masked gunman fires shots in the air.]
[Several people lie on the floor of the bank, hands above their head.]
[The gunman runs through the bank, still shooting.]
[Close-up of Horatio.]
[A safe explodes.]
[Flash: Frank Tripp.]
[Flash: Horatio Caine.]
[Flash: Calleigh near the waterside.]
[Flash: Horatio Caine.]
[Flash: Someone wearing shades.]
[Flash: Calleigh.]
[Flash: Yelina Salas.]
[Water floods into a building.]
[The masked gunman takes bars of gold out of the smoking safe.]
[A jeep speeds through a tunnel, trying to stay ahead of the water.]
[Horatio is driving the jeep.]
[The water gets ever closer to the jeep.]
[A speed boat cuts through the water.]
[Horatio and Delko have their guns raises as they carefully move along the street.]
[A man is trapped as water floods his building.]
[Close-up of the man's fist hitting the wall.]
[A man stands up from his desk and points a gun at a visitor.]
[Horatio's jeep makes its way out of the tunnel, water erupting all around it.]
[A building collapses.]
[Alexx talks to someone.]
Alexx: "We got us a homicide."
[A man carrying a body over his shoulder closes his car trunk.]

IT'S AN EPISODE SO BIG

[Calleigh and Ryan walk past several bodies on stretchers, covered by white sheets.]
[Overhead shot of the terrain: it's a cemetery, with several coffins washed up by the floods.]
[A scared man is crouched on the floor.]
Scared Man: "Look at that horizon."
[Horatio is unforgiving.]
Horation: "That is not the horizon."
[Through the window, we see a wall of water approaching.]

IT CAN'T FIT INTO JUST ONE HOUR

[A woman finds support on Horatio's shoulder.]
Horatio: "Close your eyes."
[The water shatters the window.]

A NINETY-MINUTE CSI:MIAMI AT A SPECIAL TIME -- CBS, MONDAY

[A final shot of the 30-foot wall of water.]
[Text: 'CSI: Miami - 90 Minute Event - Special Time - Monday 9:30/8:30c']
The promo can be downloaded in streaming Real Media format from the official CBS web site.
Discuss this news item at Talk CSI!


Add CSI Files RSS feed to your news reader or My Yahoo!
Also a Desperate Housewives fan? Then visit GetDesperate.com!