CBS CEO: No New Spin-Off Planned Yet
By
Antony
March 5, 2003 - 8:12 PM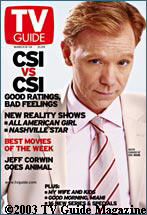 TV Guide, the bible for US television viewers, features CSI: Miami on its cover this week - and even talks about the possibility of another spin-off!

With CSI at the top of the ratings chart, and CSI: Miami posting strong figures each week, the magazine claimed that a third spinoff is being mulled for the New Orleans area. But CBS president and CEO Leslie Moonves insisted to TV Guide that it's too soon to discuss another spin-off.

However, CSI or not, Moonves said that there's CSIesque shows sprouting up. "Without a Trace, the show that follows CSI, pays a certain homage to CSI," Moonves told the magazine. "And NBC's Crossing Jordan, that's a forensics show."
CBS itself is developing no less than three shows with CSI influences, including Cold Cases (in which unsolved murders are solved through new technology) and Expert Witness, revolving around a forensic psychiatrist. Viewers might even get to see a show that Moonves described as "JAG meets CSI/"

In addition to Moonves, TV Guide also interviewed CSI creator Anthony Zuiker, who related another problem with spin-offs: the fact the original show's cast might not like it. "I didn't know how we were going to do it. We had to brace ourselves for the reaction from the cast," Zuiker said. "The reason [William Petersen] had gone into business with me is that I had a fresh idea. And now to do another show with five or six characters over here that felt like five or six characters over there was weird. I think he wasn't happy about it."

More can be read here at the TV Guide website. The magazine (cover shown above right) is on sale now.
Discuss this news item at Talk CSI!


Add CSI Files RSS feed to your news reader or My Yahoo!
Also a Desperate Housewives fan? Then visit GetDesperate.com!