CBS Releases New 'CSI: New York' Trailer
By
Christian
February 5, 2005 - 9:24 AM
See Also: 'Blood, Sweat & Tears' Episode Guide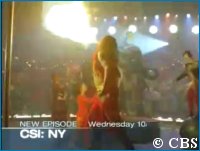 CBS Wednesday premiered the spectacle-filled trailer for this week's new CSI: New York episode "Blood, Sweat & Tears," in which Mac and the rest of the team take a trip to the circus.
At the start of the episode, a 16-year-old contortionist is found dead and stuffed into a small box washed ashore on a Coney Island beach. Mac and Stella then go to question the victim's family and their rivals -- trapeze artists who compete for attention as the circus' main act. Meanwhile, a large pool of blood in a New York apartment leads Danny and Det. Flack to a dead woman disposed of in the building's trash chute.
The 30-second promo video for the episode can now be downloaded from CBS.com. For those of you on dial-up, here's a transcript of the trailer:
WEDNESDAY ON A NEW CSI: NEW YORK

[A black and somewhat overweight swimmer tries to dig something out of the beach sand.]
[He clears the object: it's a trunk.]
[The swimmer opens the trunk - and recoils with shock.]
Mac: "Someone stuffed him into a box and didn't break a single bone?"
[Mac and Stella look on as Dr. Hawkes lifts the naked body of a young man out of the trunk.]
[In the autopsy room, Mac addresses Dr. Hawkes.]
[Hawkes pulls back the man's arm, demonstrating his unique flexibility.]

THE NEXT CASE

[Several lab techs are at work in the CSI department.]
[Dressed in a lab coat, Mac is examining a piece of evidence.]
[Stella talks with Mac.]
Stella: "This guy had no defense wounds."
[Mac considers this.]
Mac: "You mean some kind of escape artist."
[A contortionist is doing things with his body that would send normal people straight to the emergency room.]

WILL BE A THREE-RING CIRCUS

[An elephant trumpets while a glamourous handler rides on his back.]
[Acrobats soar through the air.]
[The circus show is in full progress: we see fire breathers, jugglers, and an elephant.]

LITERALLY

[With all the spotlights on him, a contortionist balances on one leg while he places the other in his neck.]
[Back at the CSI department, Stella looks amused.]
Stella: "Yeah, you got that right."

IT'S THE GREATEST SHOW ON EARTH

[The camera pans across the audience and ends on a clown.]
[As the crowd goes wild, the ringmaster extends his arms.]
[Overhead view of the ring, where a fire spews a plume of orange flame.]
[A young girl flies through the air, held by another trapeze artist - but then he lets go of one of her hands.]
[The girl screams.]
[Mac is interrogating someone.]
Mac: "I take it the circus isn't one big, happy family?"

BUT YOU'VE NEVER SEEN IT BEFORE

[Backstage, a man punches another man.]
[A clown puts a man in a pillory.]
[A girl audibly gasps for air.]
[A girl is struggling with someone else.]
[In the ring, a clown strikes someone down.]
[A massive brawl in the costume storage room.]
[In the interrogation room, Flack points at a suspect.]
Flack: "This one's a real tough guy."
[A circus artist, still in his costume, looks up defensively."
Circus Artist: "We handle things internally."
[A clown wearing a judge's wig and a purple high hat looks menacing.]
[The judge hammers his gavel - all of clown court stands at attention.]
[Mac isn't impressed.]
Mac: "So do we."

A NEW CSI: NEW YORK - CBS WEDNESDAY

[The Manhattan skyline.]
[Text-over: 'CSI: NY - New Episode, Wednesday 10/9C']
To view the 30-second promo in streaming Real Media format, head over to the official CSI: New York site.
Discuss this news item at Talk CSI!


Add CSI Files RSS feed to your news reader or My Yahoo!
Also a Desperate Housewives fan? Then visit GetDesperate.com!