CBS Releases 'The Score' Promo
By
Christian
January 5, 2006 - 9:47 PM
See Also: 'The Score' Episode Guide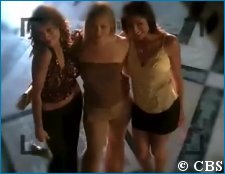 Ahead of next week's "The Score," CBS has released a 30-second trailer for this first CSI: Miami episode of 2006.
In this episode, a man is brutally murdered while trying to learn how to pick up women at a hip Miami nightclub. The victim was taking lessons from seasoned pros on how to score women in the competitive Miami night life, and was nearly successful before he was killed. The CSIs, left only with a club full of likely suspects and a murder weapon wiped clean, must find the killer amongst the treacherous backdrop of Miami's sexual nightlife. Meanwhile, Eric's sister, Marisol, is arrested for buying a large amount of marijuana, and Horatio, learning that she bought the drugs to help her and her fellow cancer sufferers, must find a way to help her avoid jail time
The promo can now be downloaded at CBS.com. For those of you with slower connections, here's a full transcript of the promo video:
CSI: MIAMI KICKS OFF THE NEW YEAR

[Horatio Caine arrives in his car.]
[Eric Delko examines something with a flashlight.]
[Calleigh Duquesne lowers a photo camera.]
[Three women approach a mansion.]
[On the balcony, three men watch the ladies.]
Man: "Gentlemen, pick a target."
[The women smile at the men.]

WITH AN EPISODE TO DIE FOR

[One of the women is dancing, showing no lack of cleavage.]
[Everyone at the party is dancing.]
[Overhead shot of a busy dancefloor.]
[When someone opens a closet, a dead man falls out.]
[Close-up of the face and bloodied collar of the man.]

AND AFTER YOU SEE IT

[Horatio takes off his shades.]
[Eric is a little shaken.]
Eric: "What is my sister doing here?"
[Marisol Delko tries to avoid Eric's gaze.]
[She looks at Horatio.]
Marisol: "Am I under arrest?"
[Horatio sighs.]
Horatio: "You are."
[Flash: Someone raises a knife.]
[Flash: A man and a woman sit opposite of each other.]
[Flash: The crime lab.]
[Flash: A group of trees.]
[Flash: The lab again.]
[Flash: A body in the morgue.]

NOTHING WILL EVER BE THE SAME

[Quick zoom towards the men on the balcony.]
[Flash: Two men struggling.]
[Flash: Someone's holding a sparkler.]
[Monica West confronts Horatio.]
Monica: "Your lab just tampered with evidence. I'm not letting you get away with it.]
[Horatio looks away.]

FIND OUT WHY 70 MILLION VIEWERS AND COUNTING HAVE MADE CSI: MIAMI A MEGA-HIT

[Horatio points a flashlight at something.
[CSI shot: Close-up of a piece of string.]
[Text-over: "70 million viewers"]
[Calleigh looks up.]
[Someone fires a gun.]
[Ryan looks up.]
[A girl has her bra strap opened.]
[Eric looks up.]
[A SWAT team with guns raised runs across the street.]
[Horatio is talking with Calleigh.]
Horatio: "Now we make our move."
[CSI shot: We're traveling rapidly through some kind of pipe."
Calleigh: "Follow the evidence, eliminate suspects and catch the killer."
[Inside a car, Ryan is examining a piece of evidence."
[Calleigh is speaking.]

A NEW EPISODE OF CSI: MIAMI, CBS MONDAY

[The Miami skyline.]
[Text-over: 'CSI: Miami. New Episode, Monday 10/9c.']
To view the trailer of this new CSI: Miami episode, head over to the official CSI: Miami website.
Discuss this news item at Talk CSI!


Add CSI Files RSS feed to your news reader or My Yahoo!
Also a Desperate Housewives fan? Then visit GetDesperate.com!