TV Guide Provides Major 'Miami' Spoilers
By
Christian
August 4, 2005 - 8:10 AM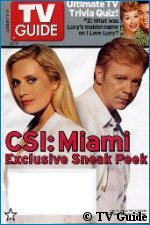 Next season, CSI: Miami will continue down the path it started on at the end of last year by introducing an extended story arc for Horatio Caine that could take as long as the rest of the series to be resolved.
"We needed a mythology," Ann Donahue told TV Guide for a cover story appearing in the August 7 edition of the magazine. According to the CSI: Miami showrunner, there is no way the show could survive for long if it simply continued to focus on the "bad guy of the week," so the show will be retooled to focus more on Horatio's troubled past. "We needed a larger defining story that could sustain us over the long run while illuminating everything that's happened so far."
For the genesis of this story, the writers reached back to the very first time viewers saw Horatio Caine, who then spoke the words, "I lost somebody once." For three years, everyone thought this referred to the death of his brother, but following Raymond's re-appearance in "10-7" that backstory needed updating. In the upcoming season opener, viewers will learn that before he became a cop, Horatio killed someone. "It was a heroic homicide," Donahue said. "Basically he did the wrong thing for the right reason, and he has to spend the rest of his days atoning for it."
The new story arc will be introduced when an old friend visits Horatio: his former priest, now the cardinal of New York. This Cardinal Benedetti will become a recurring figure on the show, and has apparently known about Horatio's secret for a long time. But instead of condemning him, the cardinal has always told Horatio that what's important is not the life he once took, but the people he can help now. "We're going to see a different Horatio," David Caruso told TV Guide. "What it does is explain his whole attitute about 'We never close.' He's not just solving crimes. He's trying to redeem himself."
Another person who will play a role in this story is Horatio's ex-wife, a New York prosecutor, who will apparently show up in Miami sometime next season. Through her, viewers will learn the reason why Horatio killed someone, which has to do with his neverending drive to protect the weak. "Suffice it to say there are children and women in places of danger and he has to set it right," Donahue said. She went on to tease that Horatio's final redemption may not come for several years yet, and may involve the return of a few familiar faces. "Someday, and it may be a few seasons from now, Ray and Yelena and Ray Jr. will fly back and give Horatio a chance to fix things."
Currently, Donahue is planning to have Ray Jr. join the police force when he returns, but that would clearly be years away at the soonest. For now, CSI: Miami will also feature several other stories this season, including the introduction of a recurring group of bad guys in the form of the Mal Noche crime gang. Emily Procter's Calleigh Duquesne will resume her role as Bullet Girl after her replacement screws up so badly a killer walks free, and Eric Delko's Adam Rodriguez will get in trouble after a urine test reveals traces of marihuana. Finally, during an accident at a crime scene Ryan Wolfe will get a nail shot in his eye -- and while he won't go blind straight away, as the nail misses the ocular nerve, he will become infected by the glue from the nail gun and slowly start losing his sight anyway.
To find out more about what happens next season on CSI: Miami, check out the August 7 -- August 13 edition of TV Guide, featuring Caruso and Procter on the cover. A short preview of the article can be found at the TV Guide site, but for the full story, you'll have to pick up the physical mag. Major thanks go out to Al Forno for this, as well as to DavidCarusoFans.com for the cover image.
Discuss this news item at Talk CSI!


Add CSI Files RSS feed to your news reader or My Yahoo!
Also a Desperate Housewives fan? Then visit GetDesperate.com!