CBS Releases 'Cool Hunter' Promo
By
Carolina
March 2, 2006 - 8:28 PM
See Also: 'Cool Hunter' Episode Guide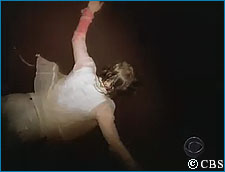 CBS today released the promo video for the new episode of CSI: New York "Cool Hunter."
After learning that the building in which their victim was found had six suspicious deaths over a 10 year period, Lindsay begins to question the science and wonders if the building is cursed. Mounting evidence seems to point to only one suspect, a doctor (guest star Brian Bloom), who swears he had no interaction with the victim, even though their lives seem intertwined. Meanwhile, when a trend spotter is killed in Washington Heights after photographing a stylish teen (guest star Daniella Alonso, "One Tree Hill"), Stella, Sheldon and Danny question the marketing executive (guest star Michael DeLorenzo, "New York Undercover") whose business was affected most by the victim's foray into the neighborhood.
The 30-second promo can now be downloaded at CBS.com. For those of you with slower connections, here's a full transcript of the promo video:
IN NEW YORK

[Black and blue screen, and creepy piano music plays in the background.]
[Text-over: 'In New York.']
[A man is getting ready to brush his teeth. He looks at himself in the mirror and grins.]
[In another apartment, a woman is taking a shower.]

THERE ARE SOME PLACES

[Black and blue screen.]
[Text-over: 'There are some places.']
[The man puts his toothbrush under the faucet. Suddenly the water turns from clear to red.]
[He steps back, watching as blood mixes with water and cascades into his sink.]

YOU JUST CAN'T LIVE

[In the other apartment, the woman taking a shower screams.]
[Red water slides down her body.]
[Mac is at the scene, shining his flashlight down a water tower.]
[At the bottom, floating in the water, he finds a dead woman.]
[The woman is on the autopsy table. There's a weird puncture wound on her chest.]
[Lindsay talks to Mac.]
Lindsay: "There have been 6 suspicious deaths in this building and people say it's cursed."
[The camera pans over the building. It's old, like many of the New York buildings are.]
[Mac isn't scared, though.]
Mac: "Now it's death number 7."
[Close-up of an old faucet. Diluted blood pours out.]
[With her flashlight, Lindsay looks for evidence in one of the apartments.]
Mac: "The building's haunted."
[In another part of town, Stella and Hawkes look at another victim, a blonde kid, he's sitting rather than lying down.]
[Stella addresses someone.]
Stella: "What we can see and what we can prove are two different things."
[Flack is interrogating a man. He gets close to his face as if to intimidate him, but the man doesn't look scared.]
[Flashback: A woman is lying on the floor. Another woman kneels next to her, but someone pulls her away.]
[Flashback: A CSI looks over the body of this second woman.]
[Flashback: A young man is being strangled.]
[Lindsay and Mac are at the lab, analyzing evidence.]
Lindsay: "This case is getting creepier by the minute."
[Flashback: A brunette woman is walking around in a daze.]
[Flashback: Someone lays their hand on a door that is slightly ajar.]
[Flashback: The woman is now on the floor. Her head rolls towards the camera and her eyes are open but she's devoid of emotion.]
[The New York skyline.]
[Text-over: 'CSI: NY. Hit Drama. New episode – Wednesday 10/9c.']
To view the trailer of this new New York episode, head over to the official CSI: New York website .
Discuss this news item at Talk CSI!


Add CSI Files RSS feed to your news reader or My Yahoo!
Also a Desperate Housewives fan? Then visit GetDesperate.com!