CBS Releases 'Collision' Promo
By
Carolina
March 1, 2006 - 7:24 PM
See Also: 'Collision' Episode Guide
CBS recently released the promo for Miami's "Collision."
A woman is killed from what seems to be a terrible auto accident. However, further evidence reveals that she was killed after the accident and a dead body is found in the trunk of the car. Now, as the investigation seems to be a case of a jewelry heist gone awry, the victim's traumatized son and Natalia's hidden past may hold the key to discovering what really happened. MONDAY
[A silver car speeds through the streets of Miami at dawn.]
[Another car comes up behind it, hitting it from the side.]
[The woman in the first car looks through the rear view mirror, crying.]
Woman: "Why are you doing this?"
[Suddenly, the second car speeds up and slams into the woman's.]
[Her body swings forward with the force and her head hits the steering wheel.]
[The car speeds off the road.]
FASTEN YOUR SEATBELTS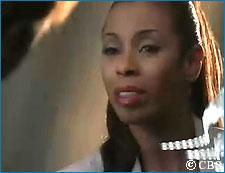 [Horatio peers into the car through a crack in the windshield. The victim is still inside.]
[Alexx addresses Horatio.]
Alexx: "Our lady driver was killed after the crash."
[At the morgue, Horatio stares at the image of the victim on a big screen TV.]
[Flashback: A person is seen driving a motorcycle.]
[Flashback: The cyclist turns around; it's a woman.]
[Flashback: Someone is taking away a diamond necklace.]
[Frank Tripp talks to her.]
Frank: "So what are you, a road kill pirate?"
[She isn't threatened.]
Woman: "Can I go now?"
[Horatio kneels down and looks under the car. Red liquid is leaking out.]
[In the present, he addresses the motorcyclist.]
Horatio: "How can I put this? No."
[The woman is taken away.]
THE TRUTH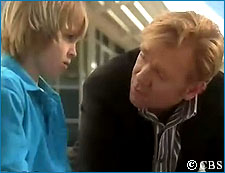 [Inside the demolished car, Calleigh looks around for evidence.]
[A little boy is in the interrogation room, writing something down.]
[Horatio and Natalia look on.]
Natalia: "Is that the victim's son?"
[Outside the lab, Horatio talks to the little boy.]
Horatio: "My mom was killed just like yours."
IS FINALLY COMING OUT
[Out in the field, Ryan draws his gun at someone off camera.]
[Horatio spies on someone through a door.]
[Later, he addresses Natalia in the hall.]
[The camera draws closer as he talks to her.]
Horatio: "This is obviously a big decision for you."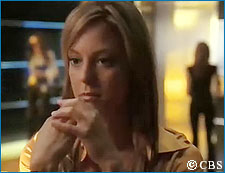 [At the lab, Natalia stands with her hands under her chin, in deep thought.]
[Close-up of another body lying on the pavement.]
[Delko confronts Natalia at the lab by grabbing her by the arm.]
Delko: "Do you know something you're not telling?"
[Natalia replies.]
Natalia: "You know some people have secret lives."
NEW CSI: MIAMI. CBS – MONDAY
[The Miami skyline.]
[Text-over: 'CSI: Miami. New Episode – Monday 10/9c.']

To view the trailer of this new Miami episode, head over to the official CSI: Miami website .

Discuss this news item at Talk CSI!


Add CSI Files RSS feed to your news reader or My Yahoo!
Also a Desperate Housewives fan? Then visit GetDesperate.com!