Guest Actor Perspective - Natasha Alam
By Christian Höhne Sparborth
Posted at February 4, 2005 - 12:17 PM GMT
See Also: 'Nesting Dolls' Episode Guide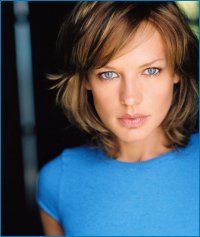 Each Thursday, viewers tune in to CBS to see the eight main cast members CSI: Crime Scene Investigation solve the crime of the week. But more so than most other television series, CSI each week also relies on a large arsenal of guest actors to convincingly recreate its setting - actors portraying anything from CSI lab techs and police officers to savage murderers and their victims. This week, we had the opportunity to interview an actress from that last category: Natasha Alam, who appeared as the slain Russian mail order bride Svetlana Melton in "Nesting Dolls."
"It was a blast to play that part," Alam told CSI Files. "I had to lay in a pool of 'blood' made of corn syrup and paint. [It was] a little cold and uncomfortable, but exhausting, as when the 'blood' gets dry it itches and shrinks, causing the skin to pull, but you have to wear it for a while. We were jumping from scenes before I was covered in blood to scenes [set after that] many times, which meant I had to take a shower and do the make-up and hair all over again several times a day. [...] I still wouldn't trade this experience for anything."
Alam's life prior to appearing on CSI sounds like something out of a fairy tale. She grew up in Tashkent, the former capital of the former Soviet republic Uzbekistan, until she was discovered by modeling agency I.M.M. - which Alam joked seemed to her more like a "B.I.G. Agency." As a model, she embarked on a career that took her to places like Milan, Paris and London, doing photo shoots for famous brands such as Gucci, Christian Dior and Versace. Eventually, this exciting lifestyle led her to meet a member of the Iranian royal family, with whom she fell in love and got married.
After a few years, she realised she had to pursue modeling and acting again. "The entertainer in me wouldn't rest," she said. "So I started taking acting classes at the Method Studio and Actors' Center and signed with IMG model management In London. My first teacher was Marianna Hill (Deanna Corleone in The Godfather II). It was her who inspired me to go further."
In 2001, Alam and her husband moved to Los Angeles, where they rented a studio and recorded demos of songs they'd written together. Meanwhile, Alam continued to work on her acting training, which led to her being cast in her first TV role - that of Katiya Federov on the third episode of Fox's Fastlane. Unfortunately, shortly after this Alam divorced from her husband, which led to a two-year period during which she didn't audition for any parts. But now she's back, and more motivated than ever. "I book practically every role I read for, and one of them is the role of Svetlana Melton on CSI. [It] will definitely be one of the jewels on my résumé."
For a show as popular as CSI, many actors are often vying for the same role. "I had tons of competition," Alam said. "[But when] I read the script I knew somehow, 'this is mine,' and that confidence never left me. Even when I entered the waiting room for the casting with about twenty girls in there auditioning for the same part, somehow I had that feeling that they were wasting their time. And I don't mean to be mean, I just knew, I could feel it."
Once she had won the role of Svetlana Melton, Alam prepared herself extensively for the part. "The script only gives you a minimum. I had to make a choice what this character is like. I sort of had to create a biography for Svetlana: where she's from, how did she get to where she is now, how was her live before and what did she want her live to be. [I also pictured] her friends, parents, people she loved and hated, her habits, likes, dislikes..."
Actual filming of Alam's scenes in "Nesting Dolls" took about a week - a time she greatly enjoyed. "The cast was fantastic," she said. "It's such a pleasure to work with these wonderful actors."
Now that the show has aired, Alam is hoping she will eventually be asked back for another role on one of the CSI series. "I love the show. I'm a big, big fan - it's hard to pick one for a favourite, as they're all so different and interesting. [As for] my dream role on CSI? I would love to play a detective undercover."
For now, Alam is working on expanding her career further. She recently appeared in several episodes of The Bold and the Beautiful, and is building a personal web site at NtashaAlam.com - for now, information on her can already be found on her IMDB page.
Appearing on CSI, even for a guest spot, seems like a dream to many fans of the show. So we finished by asking Alam if she could offer any advice to people hoping to get cast on CSI. "Keep working on your craft," she said. "Success is when the preparation meets the opportunity."
Discuss this interviews at Talk CSI!
---
Christian Höhne Sparborth is the editor of CSIFiles.com, as well as of
Star Trek
fan site
TrekToday
.