From The Frontlines Of The Writers' Strike, Part Two
By Kristine Huntley
Posted at December 7, 2007 - 7:08 PM GMT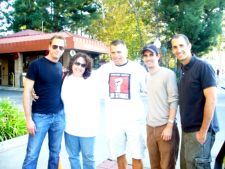 The WGA writers' strike is entering its second month, and while negotiations have resumed, the picketing continues as the writers hope for a fair deal that will bring them back to work. At the CBS Radford studio in Studio City, CSI: New York writers Noah Nelson, Barbie Kligman, John Dove, Zachary Reiter and Bill Haynes have been tirelessly walking the lines every day.
"We're just looking for a quick resolution so we can get back to work and create more episodes for the fans," Reiter, who has penned numerous episodes for CSI: NY including "Hung Out to Dry" and the conclusion to this season's 333 case, "The Thing About Heroes", notes. Reiter, aware of fan support adds a message to the fans, "Thanks for your patience."
Dove, whose most recent episode was the November sweeps entry "Commuted Sentences", also has a message for the fans: "Please let the networks know if you'd like us back at work."
Haynes, who also serves as the technical advisor for CSI: NY, scripted the final episode of the show completed before sweeps, which is scheduled to air on January 16, 2008. "From what we've heard and read on the site, everyone seems supportive," Haynes says. "We feel like we're fighting the good fight. To feel like we have public support and fan support makes all the difference."
What will happen on the show when a resolution is reached and the writers do get back to work? "Danny's going to take his shirt off," Dove jokes. "And Flack's going to take his shirt off."
To learn more about the strike and how to support the writers, visit United Hollywood. For more CSI Files coverage of the strike, go here.
Discuss this articles at Talk CSI!
---
Kristine Huntley is a freelance writer and reviewer.